Semi Automatic Stretch Wrapping Machine (FELP) - Signode
- Product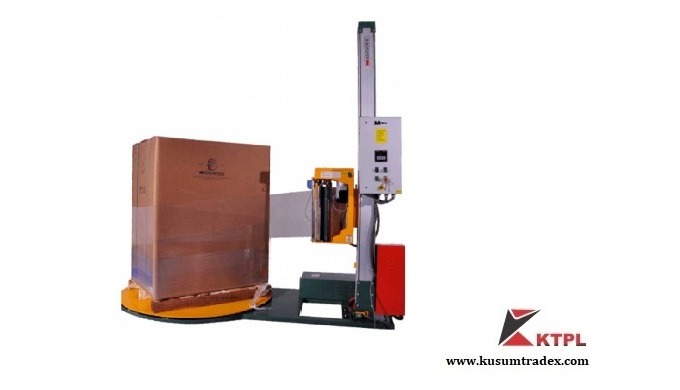 Features & Benefits
Heavy duty steel structure with aluminum column.
AC Drives and Motors — Reduced maintenance.
Automatic Pallet Height sensing with sensor.
PLC Controlled with digital display of stretch % and Weight of the film consumed / pallet.
Reinforcement wrap funct
...
Description of the Product
Features & Benefits
Heavy duty steel structure with aluminum column.
AC Drives and Motors — Reduced maintenance.
Automatic Pallet Height sensing with sensor.
PLC Controlled with digital display of stretch % and Weight of the film consumed / pallet.
Reinforcement wrap function — For desired no of wraps at any given height of the pallet.
Step stretch unit- Stretch adjustment through change of sprockets.
Turntable Load bearing capacity — 2 MT.
TECHNICAL SPECIFICATIONS​
Performance
Loads per hour: Up to 30
Turn table speed: Up to 9 rpm variable
Maximum load size: 1200mm(L) x 1200mm(W)x 2400mm(H)
Maximum load weight: 2000 kg (Centered)
Minimum wrap height: Turn table surface
Turn Table
Table diameter: 1600mm
Support rollers: High resistance POB rollers
Drive system: Chain and sprocket type
Drive motor: 1.0 HP, 415 VAC, 3ph,50 Hz
Turntable Bed height: 90 mm from the ground
Machine Dimensions
Machine length: 2900mm
Machine width: 1610mm
Machine height: 2800mm
Machine weight: 700kg ( Approx)
Power Requirements
230vac, 1phase, 50 Hz, 16amps, 2kw
Film Delivery System
Pre-stretch type: Step pre-stretch
Film stretch: Step stretch 100%,200% & 300%
Film roll width: 508mm ( 20")
Film roll Diameter — Max: 254mm ( 10")
Core size: 76.2mm ( 3")
Min. film tension: 0.5 kg ( approx)
Film force control: Electronically-Adjustable
Carriage speed: Adjustable, UP/Down speed through VFD
Powered pre-stretch motor: 0.5HP, 415 VAC, 3ph, 50 Hz
Electrical Controls
Controller type : PLC
Load height sensing: Photo eye with by-pass option
Wrap pattern: Fixed top and bottom wrap selection with Reinforce wrap option
Stretch % and film consumption / pallet: Digital Text display
Speed controllers: VFD speed controls
User friendly
Easy film threading through the pre-stretch unit.
Operator interference through push button controls.
Loading Ramp-for ease of loading pallets with hand trolley.
Variable Frequency drives for speed controls of Turn table, elevator and pre-stretch.
Safety
Soft Start/Stop
Emergency stop push button, Cycle pause option.
Price of the Product
Price on request
Characteristics of the Product
Brand

Signode

Certification

yes
Category of the Product
I want to get more details about the product
Company catalogues - Kusum Tradex Private Limited