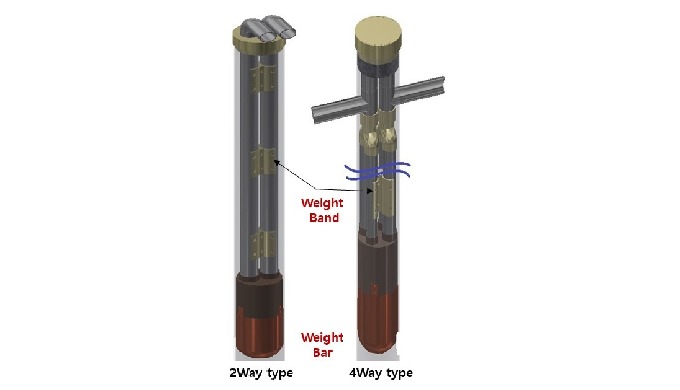 It is a product that increases heat exchange efficiency by increasing the depth of geothermal construction to 300m, while reducing the number of geothermal installations, lowering the overall construction cost.
Existing geothermal heat exchangers were difficult to install more than 200m due to buoyancy caused by groundwater, but they applied
Description of the Product
It is a product that increases heat exchange efficiency by increasing the depth of geothermal construction to 300m, while reducing the number of geothermal installations, lowering the overall construction cost.
Existing geothermal heat exchangers were difficult to install more than 200m due to buoyancy caused by groundwater, but they applied new technology that overcame this by loading materials.
It is very advantageous when the installation area of the geothermal system is small.

# Technical Detail / Specifications
The buoyancy reduction technology of the underground heat exchanger by loading members.
- increase depth to more 300m
Brain leak detection sensor
- It is possible to determine in real time whether the heat exchanger coil pipe's leaks
Check the location of the geothermal heat exchanger using a smart tag.
-The location of the geothermal heat exchanger buried in the ground can be identified, and various information can be identified from the original location.
Price of the Product
Price not indicated
I want to get more details about the product
Company catalogues - G&G TECHNOLOGY Co. Ltd.