Carton Wrapping Machine (CW) - Signode
- Product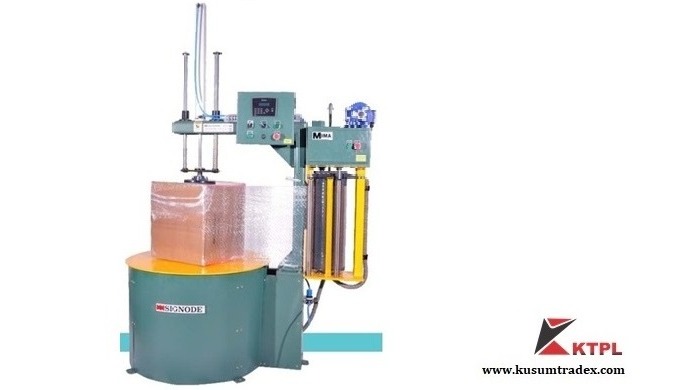 Features and benefits
AC Drives and Motors — High reliability
SIGNODE- Powered pre-stretch, Variable up to 300%
Independent film tension adjustment for wrapping both lighter & heavier cartons
PLC Controlled with digital display of stretch % and Weight of the film consumed/ Carton
...
Description of the Product
Features and benefits
AC Drives and Motors — High reliability
SIGNODE- Powered pre-stretch, Variable up to 300%
Independent film tension adjustment for wrapping both lighter & heavier cartons
PLC Controlled with digital display of stretch % and Weight of the film consumed/ Carton
Convenient operating height
Top holding attachment for holding the carton while wrapping
TECHNICAL SPECIFICATIONS

Machine
Over all dimensions: 910(W) x 1515(L) x 1630(H)
Machine weight: 400kgs (max.)
Load
Over all dimensions (max.): 750(L) x 500(W) x 500 (H)
Over all dimensions (min.): 200(L) x 200(W) x200 (H)( with 10" film width)
Load diagonal: 910
Weight: 200 kgs. max.(Centred)
Turn Table
Dimensions: 910diameter with variable speed
Suspension: 2 nos. Taper roller bearing
Motor: 0.5 HP, 415 V, 3 Phase
Gear Reducer: Worm reducer
Powered Variable Pre-Stretch unit
Stretch: variable up 300%
Motor: 0.5 HP, 415 V, 3 Phase
Film
Size: 500 Width x 250 Dia.(max.) x 76 Core Or 250 Width x 250 Dia.(max.) x 76 Core
Elongation: Up to 300 %
Note:
1)All dimensions are in mm.
2)Carton needs to be turned by 90° for full wrapping
3)Optional- Pneumatic up down of the sensor stretch unit to wrap more height of the carton.
Price of the Product
Price on request
Characteristics of the Product
Brand

Signode

Certification

yes
I want to get more details about the product
Company catalogues - Kusum Tradex Private Limited