New service
Automotive Technology (Vehicle Diagnostic) Solution with rugged tablet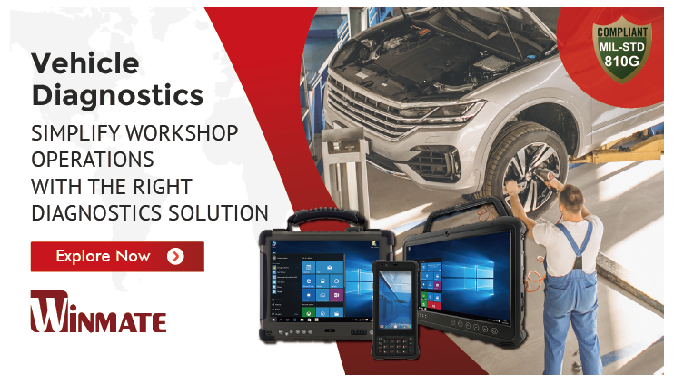 Start date: May 10, 2022 9:15 AM
The fully rugged Windows tablets are designed to withstand the harshest environments through a complete array of features that improves efficiency and enables maximum mobile worker productivity without compromise. Embrace state-of-the-art wireless connectivity, data collection, and data transfer capabilities all in one device.
Along With the Winmate Rugged tablet, regardless of how requiring your atmospheres are. You may trust a trusted procedure. You receive dust-and-water limited IP66 sealing, closed adapters, plus harsh temp, surprise, and also vibration testing. And also, get correct frost and condensation free of charge operation in the freezer with optional heating systems, intelligent temperature level sensors, and more.
Industry Challenges
The vehicle diagnostics market analyzed was actually valued at around USD 27 billion in 2020, as well as it is actually assumed to connect with a worth of around USD 38 thousand through 2026 while enrolling a CAGR of over 5.8% during the course of the foresight duration Covid-19 pandemic, although impacted the international economic condition, The Automotive Diagnostics Tool market was actually looked at unsusceptible to the dilemma.
With our increased reliance on computers monitoring car sensors and control systems, the automotive system as a whole must be safety-critical to ensure the safety of the driver, passengers, pedestrians, and other vehicles. To improve the quality and reduce errors in these systems, automotive OEMs and suppliers require the right diagnostic tools to detect and discover any faults in automotive systems.
Winmate understands the needs of Automotive Technology applications and provides solutions to industrial challenges:
Data collection from vehicle system
The correct diagnosis requires connecting special connector - OBD port to the vehicle system to receive information about car health status.
Dusty environment and frequent drops
Tablet PCs carried around workshops are subject to frequent drops and dusty work environments.
Displaying comprehensive diagrams and charts
Diagrams, charts and graphs that illustrate a car's status are indispensable to vehicle diagnostics. The rugged mobile computer must be big enough to display sufficient vehicle information and test plans, and be portable enough to be carried around.
Working in gloves
Technicians usually work with gloves on when performing car inspections. The ability to manipulate touch screens while wearing gloves is essential. This is made possible by proprietary glove mode technology.
Overview
Winmate rugged tablets support the latest Windows and Android operating system and come with display sizes ranging from 8.4-inch up to 13.3-inches. Featuring waterproof, dustproof, vibration, and drop resistant enclosures, these tablets are ready to go in the most challenging conditions. A brilliant sunlight-readable screen offers the best depiction of every diagram and spreadsheet, no matter the lighting conditions.
Designed for workshops, car repair centers, and inspection stations, all of the Winmate's rugged tablets are reliable and durable, feature IP-rated water and dust protection, and comply with MIL-STD-810G standard for shock, vibration, and drop. You can choose the custom accessories based on your application requirements- carry-bags, vehicle cradles, and vehicle docking stations – all for worker's convenience.
Performance, durability, and connectivity are making Winmate's rugged tablets the definitive solution for the automotive industry. Industrial rugged tablet bring a new level of convenience, productivity, and operational efficiency to the car production floor, vehicle diagnostics, and repair workshops.
Our rugged mobile computing include:
The latest Windows and Android operating system
Robust wireless communications
Application-tailored accessories