New product
Fanless Panel PCs for Manufacturing Hygiene Excellence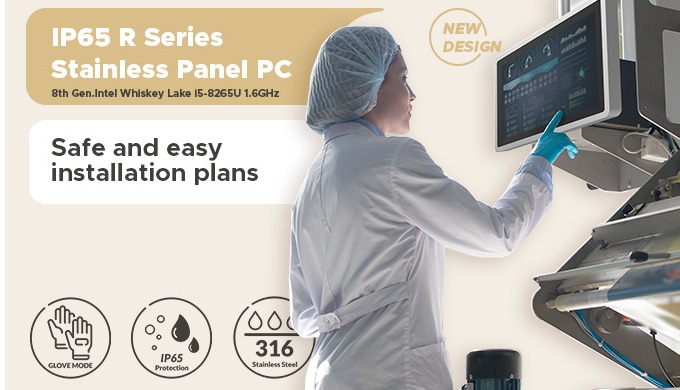 Start date: May 5, 2022 10:41 AM
As a pioneer in rugged computers and touch panel technology, Winmate has always predominantly relied on high-quality materials for its products. We offer you a wide selection of fanless panel PCs to fulfill specific hygienic and mechanical requirements from the front to the all-around IP65, IP67, and IP69K fanless panel pcs.
Winmate develops a brand new stainless panel PCs product line, the R series, offering touchscreen monitors' quality, reliability, and durability in a new design. What makes R series Panel PC different?
Round corner design
Unlike other panel PCs, the Winmate R series Stainless Panel PC is designed with a flat touch screen, IP65 protection, and round corners form.
The round corner shape on fanless panel PCs prevents bumping, scratches, and injuries, increasing workplace safety.
Universal carrying system and junction box
Aside from the round corners for workplace safety, the R series fanless panel PCs have universal mounting options for various application scenarios. Panel mounts, arm mounts, and VESA mounts are all available. The R series stainless touch PCs also include a waterproof junction box. It provides additional water protection and a neat cable trunk and facilitates installation. Install the panel PCs as a stand, a hanging device, or other ways to meet your needs.
Touchable with gloves
Fanless panel PCs in the R series are designed for dusty and damp environments such as food manufacturers or kitchens, chemical plants, storage warehouses, etc. Varied LCD sizes are supported to meet the needs of various applications. Users can enter, rotate, drag, drop data, also zoom in with bare fingers or even gloves, thanks to the susceptible touch screen and PCAP multi-touch screen.
Specially designed for washdown applications
Stainless steel fanless panel PCs are essential when devices must meet stringent sanitary, mechanical, or optical criteria. Stainless steel is more resistant to corrosion than powder-coated metal. As a result, most damages are simply cosmetic, optical in nature, while the functions and resistance of a stainless steel panel PC remain unaffected. Winmate R series Stainless Panel PCs have exceptional chemical and mechanical qualities with a high-end appearance. This R series stainless panel PCs series is excellent for food & beverage, packing, sanitary ware manufacturing, industrial automation, chemicals, logistics, warehousing, and many more industries due to its full IP65 protection.
Winmate IP65 Stainless
R Series Panel PC
Only 8th Gen. Intel Whiskey Lake i5-8265U 1.6GHz
SUS 316 / AISI 316 stainless steel housing
Round corners design
15" – 23.8" A true-flat, easy-to-clean LCD
IP65 protection against water and dust
Support Glove and Rain mode
Support various mounting scenarios
Individual solutions from experts
Winmate fanless panel PCs can be optimally tailored to your requirements. We always guarantee high-quality computers, which are checked for the quality of their performance in extensive tests.
Your requirements and individual needs are paramount when producing your fanless panel PCs. If you are looking for tailor-made industrial computers with the highest quality standards in mind, please send us an inquiry via our contact form or
sales@winmate.com.tw
.