Contact - Candyspeedkorea Co..Ltd.
#104, High-tech Center, 56, Munemi-ro 448beon-gil, Bupyeong-gu
Incheon 21417
South Korea
Latest products added Candyspeedkorea Co..Ltd.
Additional information
Legal information - Candyspeedkorea Co..Ltd.
| | |
| --- | --- |
| Nature | Headquarters |
| Year established | 2018 |
| Activity | |
| Co.Registration No | 760-88-00828 |
| No employees (address) | 4 Employees |
| No employees | 4 Employees |
Presentation - Candyspeedkorea Co..Ltd.
Activity and products
#Keyword
1 minute Hair Dyes, self hair dye, Haircare products, Associated Products, Other Quasi-Drugs, quick Hair Dyes

#Company Introduction

CandySpeed Korea started to develop its own dye products in 2015 and established its own company in 2018 at the same time that the product was completed. CandySpeed Korea's ideology is a promise to take responsibility for the "healthy and beautiful hair" of its customers.
The philosophy of Candy Speed is promise of "healthy and beautiful hair" to customers. Candy Speed makes a revolutionary product that gives you your desired color and softness without odor within 1 to 2 minutes. If there is a valuable and beautiful thing in the life in the world, we will not give up and make our ways to get it. We will create the best quality products and innovative business opportunites for the realization of our ideals. For this, we have a concrete business plan to order to accomplish the dream. When a modest, humble person who has a big vision in his or her heart makes endeavors honestly and sincerely, the success will be firmer and bigger. Candy Speed promises to continue to strive to keep our customers' healthier and more beautiful hair. Candy Speed, a leading company in the hair cosmetics industry, will do its best to promote excellent product brands in domestic and overseas markets. We would like to express our sincere gratitude to all of you for your continued love and warm encouagement, and your concern for us will be our concern.

# Main Product / Brand :

CandySpeed 1-minute colourant ( hairdye ) in various corporations consisted of agency distribution.

# Strength

Colour has the advantage of being able to dye quickly in less than a minute. CandySpeed 1 minute hair dye is a new concept hair dye that minimizes hair damage by super-speeding dye and strengthening treatment function after dyeing. No ammonia, mild and no irritation. You can feel a refreshing aroma after dyeing. Natural oils and vegetable ingredients make your hair soft and glossy after dyeing.

# Video URL :
https://www.youtube.com/watch?v=li-BxKZSNhk

#Catalogue
:
http://www.kompass.kr/img/catalogue/20180518105735_1.pdf
Company catalogues - Candyspeedkorea Co..Ltd.
Company's Videos - Candyspeedkorea Co..Ltd.




General Information - Candyspeedkorea Co..Ltd.
Certifications
| | |
| --- | --- |
| Type: | ISO 9001, ISO 14001 |
Export area
Asia-Pacific, Asia-Pacific, Worldwide, Asia-Pacific, Asia-Pacific, Africa
Japan, China, Sudan, Indonesia, Viet Nam
Yeong Choon Jeon
CEO - Chief Executive Officer
Seunghyun Cho
Export Director/Manager
I WANT TO GET MORE DETAILS ABOUT THE OFFER Candyspeedkorea Co..Ltd.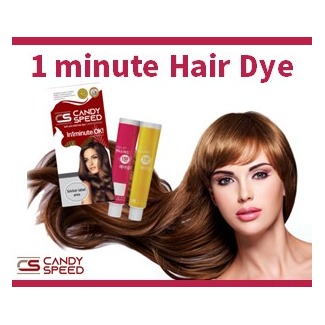 BUYING PRODUCT SAMPLES ONLINE
From Aug 31, 2021 to Aug 31, 2022
kompassmall.com
Are you interested in our products?
Please order product samples by online mall.
Location - Candyspeedkorea Co..Ltd.
Opening hours - Candyspeedkorea Co..Ltd.
Key figures - Candyspeedkorea Co..Ltd.
Activities - Candyspeedkorea Co..Ltd.
Producer
Distributor
Service providers